indicator
Korean Traditional Music
Diverse and rich, Korean traditional music expresses an optimistic spirit that transforms sorrow and despair into excitement and delight.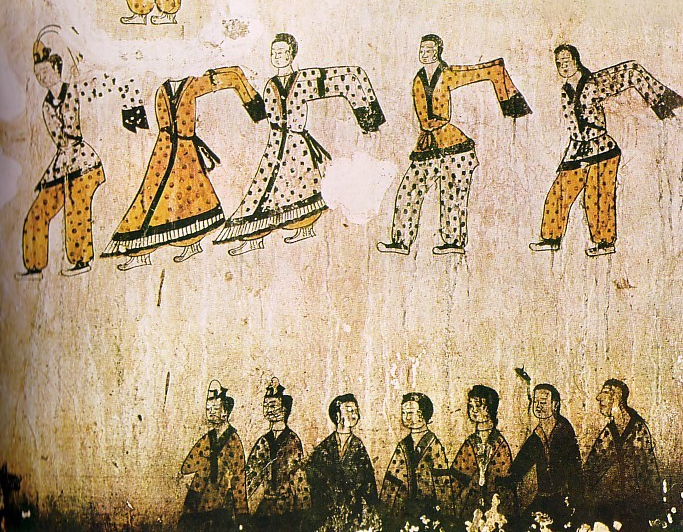 <A painting depicting dance in the Muyongchong tomb from Goguryeo, one of the ancient Three Kingdoms, 4th century.>
Korean traditional music: singing the joy and sorrow of the Korean people
Korean traditional or folk music (called "gukak" in Korean) has been passed down through the generations since antiquity.Gukak has many distinct traits, from the most basic elements of the music to its tone and format. Although it was influenced by the instruments and music of China, Korean traditional music has a unique and well-developed musical personality all its own that has absorbed the characteristics and musical preferences of the Korean people for more than a millennia.

Six representative Korean traditional musical instruments.
Bach - Air On The G String (Daegeum) Performed by Daegeumi Nuna
<Musicians playing Korea's most representative traditional instruments.>
Koreans have always enjoyed song and dance. Ancient Chinese historical records state how the "Eastern people…love to drink wine, sing and dance," and how "People travel on the roads day and night, and the sound of singing goes on without end because they love to sing." The "Eastern people" here are Koreans. Of course, the songs of the Koreans of that time are no longer with us today in their exact same formats, but the Korean predilection for singing and dancing, called "sinmyeong" in Korean, remains just as strong today as it did centuries ago.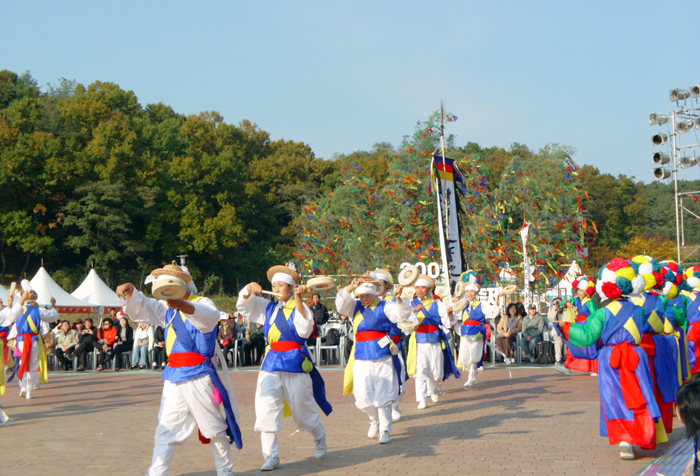 <The colorful, vivid cadences of farmer's music express the joys and sorrows of the farmers themselves.>
Performed by Kim Duk-Soo Samulnori Band
Sinmyeong, the root of the optimistic spirit that transforms even sorrow into excitement
Traditional Korean music is broad and deep in terms of genre and meaning. There is farmer's music, which expresses the lives of farmers through its exciting rhythms; pansori (Korean Solo Opera Music) and talchum (mask dance), rich in parody and humor; the majestic court music played at important events at the royal palace; and standard music (called "jeongak" in Korean) like gagok, yeongsan hoesang and sijo that embody the elegant, refined spirit of the seonbi (intellectuals of the Joseon Dynasty). Religious music like the Buddhist beompae and the music of shamanic rituals are also part of the traditional Korean music canon, adding a special diversity and richness.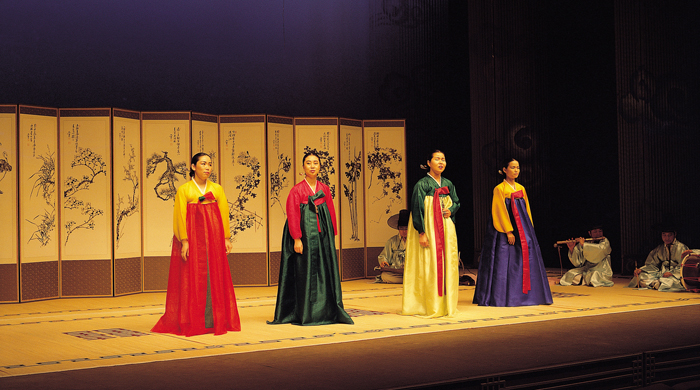 <A minyo (Korean folk songs) performance by pansori masters.>
Arirang (UNESCO Intangible Cultural Heritage of Humanity)
Performed by Yi Eun-Ju, master folk song singer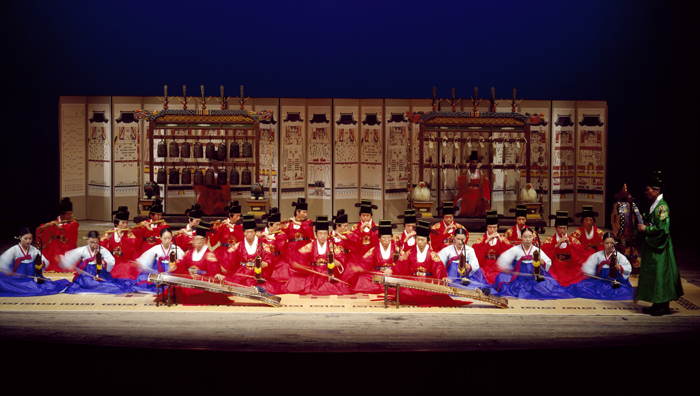 <A performance of royal court music.>
Sujecheon (Representative Korean court music)
Performed by Jeongnong Akhoe
A major misconception about gukak is that it is slow, sad and bleak. This is a completely mistaken view, because there are no sad songs at all in the standard genre of gukak. The standard genres of traditional Korean music are based on the idea of not expressing sadness in sad ways. This is why the music sounds strong, bright and harmonious. On the other hand, there are many songs in the folk genres that do have sad tones. Susimga, Yukjabaegi, Heungtaryeong, Sanjo, Sinawi are all deeply sad songs that are known to prompt an endless flow of tears. Yet at the same time the energetic and contagious rhythms of these songs compel the listener to get up and dance. This is because the basic nature of the Korean people is based not on "han" (resentment, sorrow), but on "heung" (excitement). Dancing to sad songs and creating an energetic and upbeat mood even while singing of life's sorrows is the most attractive aspect of Korean traditional music as well as the basis of the Korean psyche and its sinmyeong.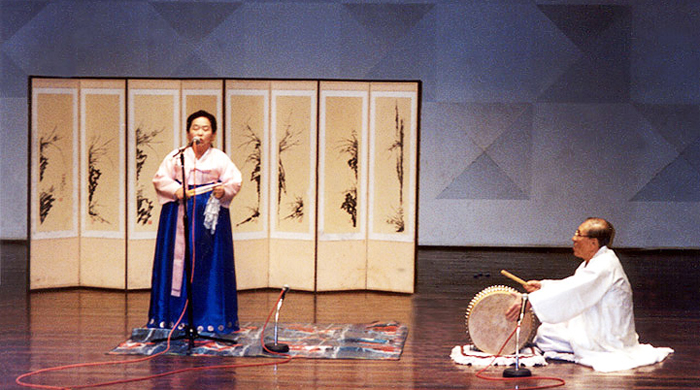 <A scene from a pansori (Korean solo opera music) performance in which the singer matches her voice to the beat of the drum.>
Pansori Choonhyang-ga
Performed by Kim So-Hee, master pansori singer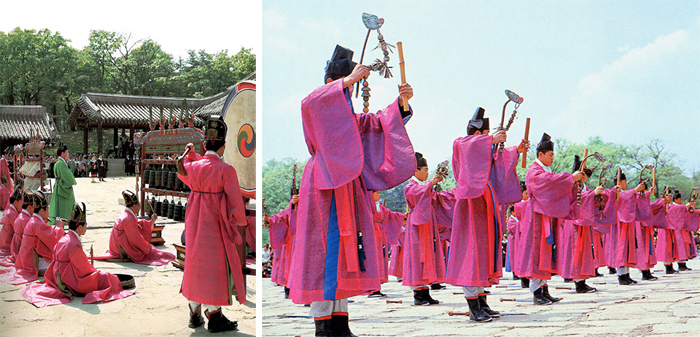 <Jongmyo Jeryeak is an ancestral ceremony involving song and dance that was performed for the royal family.>
A meeting of the traditional and the modern, East and West: The new evolution of Korean traditional music
Recently, young musicians of gukak have begun performing fusion gukak, which combines elements of traditional Korean music with modern genres. In a fusion "band," the vocals are done by a pansori singer, while the instruments comprise traditional Korean instruments like the ajaeng, gayageum, geomungo, buk and Western instruments like guitar and piano. The music that results is a new form of gukak that has been designed to fit the tastes of modern music lovers. With increasing attention and popularity, these musicians are paving a new road for Korean music.

<A performance by Seulgidoong, a fusion gukak group.>
Samulnori, the most well-known form of gukak, is made up of four folk instruments: the buk (drum), janggu (hourglass drum), jing, and kkwaenggari. These instruments combine to create an energetic form of music and performance. Samulnori is not a traditional music genre; rather, it was started in 1978 by four young gukak musicians led by Kim Duk-soo. It is an example of how traditional Korean music has been transformed into a modern genre.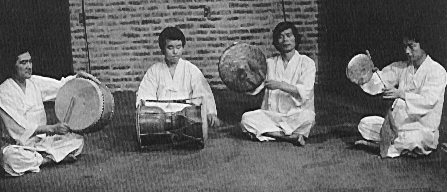 <The Kim Duk-soo samulnori troupe in its earliest days.>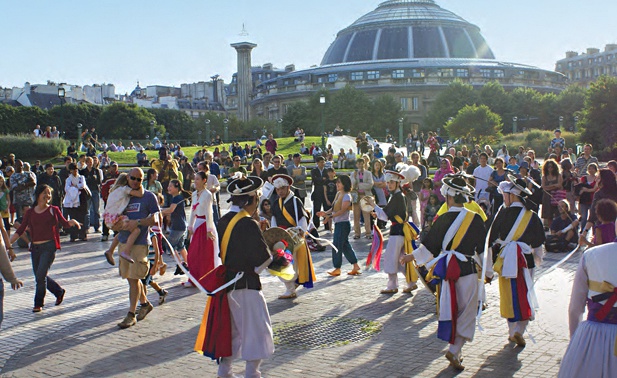 <A sinmyeong-filled samulnori performance held in Paris in 2010.>
A musical format that has taken the heung of samulnori one step further is the performance group Nanta. Nanta uses the samulnori rhythm as the basis of its comic, dramatic and wordless performance that is set against the backdrop of a restaurant's kitchen. Because there are no words, all can fully enjoy the story and the musical rhythms. Begun in 1997, Nanta has set truly amazing performance records worldwide. Popular enough to have its own performance hall on Broadway, the home of the modern musical, Nanta continues to win over audiences in both Korea and in countries around the world.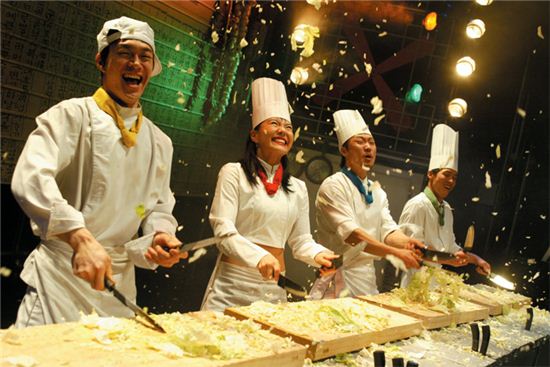 <The performance group Nanta, which uses Korean musical rhythms, has taken the world by storm.>
Just like all other art genres, music is not a fixed or unchanging entity but an expression of the everyday life of a certain period in time. Traditional Korean music, which has existed for thousands of years, continues to evolve today through its blending with Western music.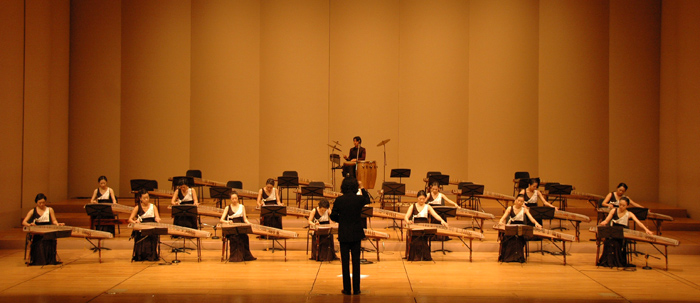 <A gayageum performance given in the form of an orchestra, complete with a conductor.>
Historia De Un Amor
Performed by Sookmyung Gayageum Orchestra
* Photos courtesy of Korea Tourism Organization and Cultural Heritage Administration of Korea.